"BIO / BOOKING SECTION"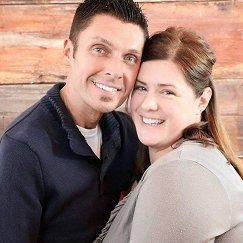 Bio
With a calling from the Lord to preach the truth, Evangelist Mike and Laurie Heltsley have been ministering to churches and individuals for 8 years. Based out of Louisville KY, the family of 5 have made connections with local churches to collaborate and spread the gospel of Jesus Christ to the lost and hurting.
Incorporating personal experience with biblical truths, Evangelist Mike and Laurie Heltsley have traveled and spoken to conferences and meetings for congregations as well as men and womens ministries. With a passion for people and the commission from the Lord, they have teamed together and committed to serve that no one is left behind
This husband and wife duo pray earnestly and constantly daily and are open to partnering with your congregation. With an excitement for Lord and the many blessings He has bestowed upon us, we would be honored to share the love of Christ with you and your congregation.

Radio
Mike's Radio program, "PREACHING THE TRUTH", airs on: VOTL Internet Radio (www.votlradio.com) - Saturday Mornings at 9:00 AM (EST), Sunday Mornings at 11:00AM, Sunday Nights at 12:00AM (EST) & Tuesday Nights at 8:30 PM (EST) and Wednesday Nights at 12:00AM(EST). Brand new, podcasts are available on iTunes.
Music Ministry
In addition to his radio and evangelistic ministry, Mike Heltsley's vocal CD's have been a blessing to many.
Our latest project, "My Time With You", released in 2016, features some very powerful and anointed praise and worship songs such as "I've Come To Worship You", "I Love The Lord", "My Time With You", "I'm A Soldier In The Army of the Lord", "Card Carry Christian" and many more…
Music CD's are available for purchase via Preaching the Truth website and also, at all live events.
Also available is the Sermon CD of the month. If you wish to be added to this monthly mailing list for a love offering of any size, please visit www.preachingthetruth.net to sign up.
For booking information and other inquiries, please feel free to contact Rev. Mike Heltsley by way of email, phone calls, and through the ministry website. Mike is very excited to hear from you and is looking forward to sharing the good news of Jesus Christ with everyone he meets.
For more information on Preaching The Truth Ministries, please contact us at:
EVANGELIST MIKE HELTSLEY
P.O. BOX 21682
LOUISVILLE, KY 40221
(502) 930-5503
Email: mwheltsley29@yahoo.com
Website: www.preachingthetruth.net


Mike Heltsley
P.O. Box 4101
Hopkinsville, KY 42241